| | |
| --- | --- |
| | $18.99 |
| | | |
| --- | --- | --- |
| SEARCH: | NEED HELP? CALL US 1.877.312.4547 | |
Solid Signal > Security and Surveillance > Digital Video Recorders > Aposonic A-S0802R18C

Click Images to Enlarge
Aposonic A-S0802R18C 8-Channel H.264 960H D1 Recording (AS0804R18E)
Brand:
Aposonic
P\N:
A-S0804R18E
No Reviews Available
Be the first to write one!
Availability:
Discontinued
Description
With the passion of perfection, Aposonic has released its newest online monitoring platform, which provides users the capability to consolidate multiple surveillance DVRs, from the same series, over the CMS software. Users can monitor multiple DVRs and locations at the same time. Up to 100 channels of live streaming cameras can be viewed simultaneously.
Features
960H/D1/Half D1/CIF Real-Time Auto-Adjusted Recording / Playback Quality. Recording 960x480 / 720x480 / 720x240 up to 30 FPS per channel.


1x HDD bay, support up to 4TB. 2x Audio-in / 1x Audio-out, RS485 input x1. Firmware upgradable


Powerful Configuration capability of Live-view, Recording, Playback, Motion/Alarm, Backup, Remote access. Friendly and Easy Graphical User Interface


Dual streaming technology to encode recording stream and network stream separately. Support NAT function, QR code scanning by mobile devices.


Live view and access control through Internet Explorer, Firefox, Chrome, and Mac OSX/Safari. Streaming live video / playback on mobile smart phones or tablets via free app.


Specs
Aposonic A-S0802R18C DVR supports streaming video on PC, Mac OSX, iPhone, iPad, Android phone and tablet. Users are able to monitor their most valuable assets anywhere around the world with their mobile devices over WiFi or 3G/4G LTE network.



Intuitive Mobile App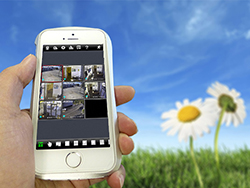 Watch your properties on the go with the SuperLivePro mobile app and the SuperLiveHD tablet app. It is capable of viewing live video feed, playing recorded footage, taking snapshot, controlling PTZ cameras, and switching between multiple DVRs.

You can even configure your DVR settings on your mobile phones or tablets!

Compatible with iPhone, iPad, Android Phones and Android Tablets. Monitor your precious assets anytime and anywhere.

Downloads

Here are available downloads related to this product:


Product Reviews for Aposonic A-S0802R18C 8-Channel H.264 960H D1 Recording (AS0804R18E)

Product reviews help other customers decide which product to purchase, where the best deals are, and your get a sense of what to expect with the product. Write a Review!




| | |
| --- | --- |
| | Solid Signal is an authorized retailer of DISH Network L.L.C. DISH, DISH Network and DISH Network logos are trademarks, registered trademarks and/or service marks of DISH Network L.L.C. and/or its affiliate(s). The DISH Network trademarks, registered trademarks and/or service marks are used under license of DISH Network L.L.C. and/or its affiliate(s). |