| | |
| --- | --- |
| | $29.99 |
| | | |
| --- | --- | --- |
| SEARCH: | NEED HELP? CALL US 1.877.312.4547 | |
Solid Signal > Cell Phones and Accessories > Cell Phone Signal Boosters > weBoost REFURB-470107R

Click Images to Enlarge
Refurbished weBoost Drive 4G-S Vehicle Cell Phone Signal Booster 1 User (470107R)
Brand:
weBoost
P\N:
470107R
UPC:
811815025764
Read Reviews (32)
Write a Review
Availability:
Discontinued
Description
Call us now for the best possible price on this item!

The refurbished weBoost Drive 4G-S™ cellular signal booster is a simple, effective solution to maintain effortless communication in your vehicle. It's designed to work with all smartphones and virtually any other cell phone. No more annoying dropped calls, poor call quality & slow Internet! The weBoost Drive 4G-S from Wilson Electronics is the most affordable car cell phone signal booster in USA & Canada. This FCC certified booster comes with all components needed for installation in one package making DIY installation simple and quick.

With up to +23 dB gain of power, it greatly enhances 3G & 4G LTE cell service for your phone on any carrier in North America. There are no monthly fees nor does it need to be connected to any internet source (Wi-Fi or landline) to work. It simply amplifies your existing in-car cellular service up to 32X for better talk, text, and faster internet. Backed by a 1-year manufacturer warranty, 24-hour US-based customer support, 30-day better signal or money back guarantee, and lifetime technical support.



Works On Every Network, For Any Carrier.

Key Features:
Boosts 3G & 4G LTE for one user.
Works for any phone, all major US & Canadian carriers.
Complete kit comes with all parts needed for easy installation
Cradle mount
Better talk, text, and internet guaranteed
+23 dB gain of power
Manufacturer Warranty: 1 Year
Get the NEW version HERE
This complete kit includes:
Drive 4G-S Multi-Band Cell Phone Amplifier/Repeater
Installation manual and instructions



Looking for other options for a cell phone signal booster? Check these out!


 

Part Number

470103

470101

471104

Coverage Area

Up to 5,000 sq. ft.

Up to 1,500 sq. ft.

Up to 7,500 sq. ft.

Outside Antenna Type

Direction Antenna

Panel Antenna

Directional Antenna

Inside Antenna Type

Wall Panel Antenna

Desktop Antenna

Wall Panel Antenna

Boost Voice & Text

•

•

•

Boost 4G/LTE & 3G Data

•

•

•

Compatible with
all Cellular Devices
and all U.S Carriers

•

•

•
 

Part Number

470410

470135

470108

470510

470210

Coverage

Multiple Devices

Single-User Device

Multiple Devices

Multiple Devices

Multiple Devices

Allows Max Range
from Cell Tower

•

 

•

•

•

Max dB Range

+50 bB

+23 bB

+50 bB

+50 bB

+50 bB

Boost Voice & Text

•

•

•

•

•

Boost 4G/LTE & 3G Data

•

•

•

•

•

Compatible with
all Cellular Devices
and all U.S Carriers

•

•

•

•

•

Outside Antenna Type

Omni Directional Antenna

Drive Sleek Outside
Antenna Magnetic Mount

Mini Magnet Mount

Mini Magnet Mount

4G-OTR Mirror Mount

Inside Antenna Type

Desktop Antenna

Cradle

Slim Low Profile

Slim Low Profile

Slim Low Profile
WARNING: Cancer and Reproductive Harm - www.P65Warnings.ca.gov
Features
Stronger cellular signal in your home or workspace


Works with virtually all smartphones and mobile hotspots


weBoost is formerly known as Wilson Electronics


Longer battery life - up to 2 hours longer talk time


Fewer dropped calls and lost connections


All needed components included in kit


Works with all cellular carriers


Boosts voice & data signals


Faster data downloads


Simple installation


Specs
Frequency

Band 12/17

700 MHz

Band 13

700 MHz

Band 5

850 MHz

Band 4

1700/2100 MHz

Band 2

1900 MHz

Max Gain

23 dB

Power Req

5.5V /3A

Connectors

SMA Female

Dimensions

4.75 x 2.75 x 1.875 in

Weight

2.5 oz / 0.3 lbs
How It Works:
Signal boosters increase cell signal by collecting signals with a powerful antenna, delivering those signals to the booster, amplifying the cell signals so your devices receive them, and delivering your device's boosted signals back to the cell tower.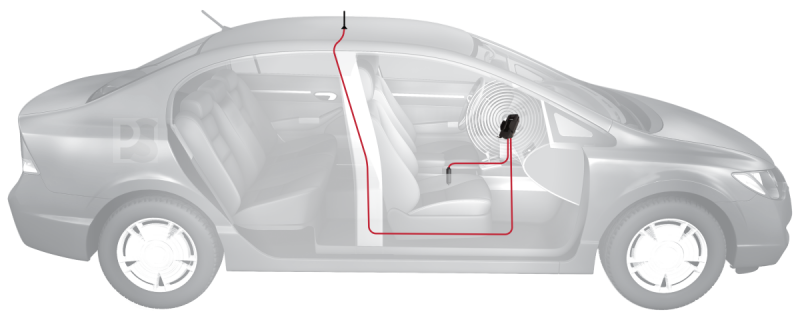 1. The outside antenna reaches out to the cell tower to access voice and data signals.
2. The booster receives the outside signal from the outside antenna.
3. The booster amplifies the outside signal up to 32x, and sends it to the inside antenna.
4. The inside antenna broadcasts the boosted signal inside the vehicle.
Downloads

Here are available downloads related to this product:


You May Also Consider
Product Reviews for Refurbished weBoost Drive 4G-S Vehicle Cell Phone Signal Booster 1 User (470107R)

Product reviews help other customers decide which product to purchase, where the best deals are, and your get a sense of what to expect with the product. Write a Review!

Average Review (32 reviews):
| | | |
| --- | --- | --- |
| Five Stars: | | 18 (56%) |
| Four Stars: | | 9 (28%) |
| Three Stars: | | 5 (16%) |
| Two Stars: | | 0 (0%) |
| One Star: | | 0 (0%) |
Recent Review:
Fkapler - Enterprise, AL - 4/13/2017

Great product!!




Customer Reviews:
Filter:
Great product!!

Fkapler

- Enterprise, AL -

4/13/2017 5:45:07 AM

I bought this a few weeks ago, used it on my way back home and places where I used to lose signal, Iftd have 4g coverage...
Works Great!

BrendaLTaylor

- Grand Haven, MI -

11/29/2016 5:00:10 AM

I bought this for camping in my truck camper. I get 2-3 bars outside of my camper, but no service inside. Now with the weBoost Drive 4G-S, I get 3 bars inside my camper and I am able to Hotspot my iPhone & stream live football & watch movies on my Fire Tablet with no hiccups/problems!
Every phone needs one.

Firefighter

- Gig Harbor, WA -

10/30/2016 12:00:19 PM

I use the weBoost every day. My phone works and 4G data works where others without the weBoost will fail in the rural areas. Having the amplifier and external antenna makes a cell phone work from inside a vehicle. Using the weBoost satisfies the state requirement for hands free operation while driving.
Great cellular signal booster

Snohotom

- Seattle, WA -

10/6/2016 4:30:09 AM

Installed the antenna on top of my RV and ran coax inside. Works great with all my devices.
Tremendous coverage.

Mack

- Potter, NE -

10/4/2016 3:45:31 AM

I bought this on the advice of a friend who travels extensively. He said it had never failed him and called me and a friend from a box canyon. Call was loud and clear. I have tested mine over many roads where I normally experienced numerous dropped calls. Hasnftt failed yet. This is one tremendous product. Get one now!
Humbled skeptic

Hephaestus76

- Charleston, SC -

9/30/2016 5:15:42 AM

Without a nearby cell tower my carrierfts signal does not penetrate the metal building of the steel mill in which I am employed. Being desperate for a solution to stay in contact with my family and switching carriers not being an option I purchased the 4G-S. To be honest, I expected an expensive version of those instickerin signal boosters that you might find in convenience stores in the early 2000fts. Not only do I now have a signal in the mill, but also inside breakroom (block building in the center of the mill. I have also taken it on a road trip through the mountains without a drop in service. The only negative was the fitting on the end of the magnetic antenna seperated from the wire but was remedied with a quick call to WeBoost. without a hassle, they had a replacement sent overnight at no cost. I highly recommend the 4G-S.
Better Signal Strength!

Traveling Man

- Bentonville, AR -

9/26/2016 3:32:04 AM

Traveling regularly I need good mobile signal strength. After purchasing the Weboost Sleek I regularly get four and five bars! It saves my battery life and gives me a better signal. Plus I can charge my phone or device with the USB port. After speaking with Kasey in customer service I even upgraded my antenna. Best customer service hands down! Thank you Weboost!
Made huge difference in reception!

Steve63

- Castle Rock, WA -

9/9/2016 2:00:47 AM

Iftm very happy with the purchase of the signal booster! I travel to remote areas and usually have huge dead zones. With the Weboost if there is any signal this increases it so my calls are clear and doesnftt drop them. Just a FYI if there is no signal itfts still a dead zone! Great product you wonftt be sorry! Steve
Fantastic product

Albert

- Fresno, CA -

8/8/2016 6:30:35 AM

I net pick at what I buy and was ready to return this product if it didnftt work. I work in rural areas and I want to say that my Internet data works now super fast with webooster. Me and my son had utube competition to see whofts would open and play faster. Well, just for the record, weboost opens and plays instantly on my phone while my sons was still buffering and this was on a dead spot. I canftt return this back, it really works.
Great device

Victor

- Delano, CA -

7/28/2016 11:31:10 AM

I bought this device thinking yeah right itfts going to better my cell phone service. Well it did, no more dropped calls and service were I wasnftt able to make phone calls
Very Good Solution to a Remote Reception Situatoin

David V Texas

- Oakwood, TX -

6/24/2016 7:02:04 AM

I have 23 acres of land in Oakwood, Texas cell coverage is a major problem. I have a MIFI device, it gets 1 bar with spotty coverage. I take the MIFI unit and put it in the weBoost Cradle and I get 3 bars. It raises the coverage from spotty to reliable. I then use the WIFI from the MIFI unit to connect to my IPNONE and I use the Magic Jack software on my IPHONE to make phone calls. Works great ! I did call in because the metal connector on the weBoost unit gets very warm. The weBoost representative said that this was normal and expected.
Works where I need it.

Grampa

- Council Bluffs, IA -

5/25/2016 5:30:10 AM

I purchased this to boost a weak 4G signal. It tripled my download signal and now I am able to stream movies without any problems. It also extended my battery life some too. Best cell phone accessorie I have made.
Great updated replacement

hogwat

- Atlanta, GA -

3/24/2016 9:16:45 AM

My old Wilson booster finally gave up the little glow light and died. In researching for new ones, I found I was now looking at weBoost. Being an over the road trucker, I found Best Buy carries weBoost. Stopped off and picked up a new 4G booster that had an antennae 4in tall, quite a difference from my 3ft plus one from the past. Seems to be working very well, but do note: the bottom post where the antennae plugs in gets very hot, hot enough to burn the fingers if grabbed. I called about that and was told that it was the heat sink for the unit and was very normal. Just a note, not a complaint. So far the unit has performed as well as the old one did, and I am very pleased with the purchase
works great especially if you swap out the antenna

Auros

- San Mateo, CA -

3/23/2016 2:01:26 AM

After I upgraded the antenna, Iftve been able to use this to get signal in all kinds of places. Seems to work flexibly with all devices and signal bands. Lightweight form factor makes it convenient to take hiking.
RV Camping Use

RandyRandy

- Georgetown, TX -

12/10/2015 10:30:07 AM

I bought this for my truck camper. We usually are camping in weak cell signal zones and I need to stay connected for email, banking and phone calls. The kit comes with all that I needed. It is designed to mount on your dash and the antenna has a magnet for mounting on the roof. This magnet is real tight. It will not blow off. First use camping about 40 miles NE of Deming NM. I am a sceptic so first with booster off got a weak 1X then turned on the booster first 3G then LTE after about a minute or so.
great product

sweet

- San Antonio, TX -

11/8/2015 8:46:26 AM

this product its good if you are working in the middle of nowhere
It is a great device!!!

SteveM

- New York, NY -

9/16/2015 8:45:26 AM

I had the original Sleek and it was overheating. Returned it and they sent me the newer 4G-S. It works much better. Calls donftt drop and I can send and receive email from a remote off-grid location.
Clean looking and Amazing performance!

bikermike21

- Creston, CA -

6/11/2015 2:00:06 AM

I install one of these units on my 2009 Kawasaki Concourse Sport Touring Motorcycle. I did this to increase my phones single strength and to hold my phone where I could see it for GPS, Music, and phone calls. The adhesive that comes on the install brackets was extremely impressive! I installed this on a flat surface to the side of my windshield so it was not in the direct wind, but was still exposed to some wind. after taking it for a few rides with only the adhesive holding it successfully I decided to put it to the test. I took my bike for a ride and took the speed up to over 120 MPH and the booster not only held onto my phone, but the adhesive holder stayed in place with out any problem! I was AMAZED. Next I tested the signal boosting capabilities by hooking up my Bluetooth headset to my phone while it was in the booster and made a few calls while I rode through areas that I used to not be able to get signal. No issues to this day! The only thing that would be nice would be if they had an alternative install method or device for the antenna, all of my surfaces that were flat and in the ideal spot were either plastic of fiberglass so the magnet would not hold. I ended up double stick taping some steel to the rear fender to allow the magnet to hold. Other than this little glitch I was extremely pleased with the performance and durability of this booster system.
This is a great asset in fringe areas

Ed Woz

- Santa Cruz, CA -

4/16/2017 10:45:15 AM

This unit was recommended to me by my techie son as a way to improve reception of my cell phone in fringe areas in the mountains of Central California. It not only improved the cell signal but connected to my upgraded information system in the car much quicker and improved the voice quality. The only thing that I could suggest to improve this kit is to add a suction device to mount to the windshield to enable the unit to moved to another vehicle. Overall a great product.
It works

Fredfraz

- San Luis Obispo, CA -

1/28/2017 12:45:13 PM

I bought it over the holidays and used it at our sierra cabin. With the unit and the hot spot on my i phone we were able to get usable phone and internet access. My only complaint is that it got hot to the touch where the antenna attachs.
Works great

John Deere man

- Riverton, NE -

10/26/2016 9:45:20 AM

The booster works great would give it 5 stars if the clips for the phone were a little longer to hold the phone . I have an otter box defender series on my phone and they just barely catch enough of the phone
Nice little booster

buba

- Choteau, MT -

8/30/2016 2:30:22 AM

I gain about 1-2 bars of signal in places i have little to no service..
Awsome

glockman

- Lerona, WV -

8/2/2016 5:46:00 AM

So far so good the booster works as described on a side note you have to have some kinda of signal to begin with as long as you have 1x of signal it will be boosted great product so far only used for 2 months will follow 5with a review after some more time has gone by
Results in 1 bar better reception

tonythom1951

- Lisbon, IA -

4/19/2016 5:30:09 AM

Works well in home. Would be even better with a longer antenna cable.
improved service

relocated

- Jackson, CA -

3/29/2016 12:31:38 PM

I moved to a rural area with very poor cell coverage. At my house I have zero bars on my phone. The 4G-S boosted the signal so that now I have three bars in the same location. There are areas while driving that I do loose a signal completely but the 4G-S improves the signal in most areas and allows clear voice communications. It is a huge improvement over the phone by itself.
Great customer Service!!

hagen

- Meeteetse, WY -

3/24/2016 9:16:45 AM

Excellent feature for my business, I wish I had more of their products!
Good buy

Wiggi

- Marquette, MI -

3/23/2016 2:01:26 AM

I bought this a month ago and it is ok but does not work as well as my old Wilson did. It does still give me signal when there is none but only two bars where my old one had full bars with no signal but overall I am happy with it.
Not certain yet. Home test, no change in strength

bbulkow

- Menlo Park, CA -

1/1/2017 12:19:03 PM

I bought this unit ( Slim 4G ) a few weeks ago and just got a change to try a home test. I bought the unit for driving and hiking in the california mountains where dips and folds can mean spotty service. In my home test - where I also have moderate problems holding onto calls, even though a tower is within 300 meters - I see -114 without weboost, and -114 with weboost. The green light is on, and I wish there were more diagnostics. The phone model is an ATT LG V10 running Lollypop, and I am probably on band 17 ( we have mostly 17 and 2 around here, it seems ). I am a little concerned because there are a lot of frequencies in ATTfts spectrum, and I wonder if there need to be updates and fiddling done for all the different phones and all the I am not going to contact support just yet because this is not the intended use of the device, but I see my test is valid, and you think I should have improved signal strength. I will be happy to post a better review if this thing works great for its intended use!
Just getting started

Welder17

- Abilene, TX -

12/4/2016 1:00:24 AM

So fare it has neen good,but really putting it to work in a few days
not to impressed

Mac Holder

- Rocky Ford, CO -

9/27/2016 4:46:45 AM

Not to impressed so far. Went Elk hunting and it didnftt extend my service at all. The only reason I bought it was so I wouldnftt have to drive as far to call my wife. It doesnftt seem to help at all.
Works Well, but...

Izzyaz

- Ames, IA -

9/7/2016 9:30:20 AM

The booster works well. However, it can be difficult to remove the phone from the unit with a case on the phone. The other issue is the unit does retain a bunch of heat. If you need to use the phone with the unit it can be hot to hold to your face and in your hand.
Works

D r I v e r

- OH, PA -

8/21/2016 10:30:29 AM

Had this for a month now . It does work, 4g service as it says, but at bad times only with one bar, but the 1 is better than none. It comes with sticky pad mount, I would rather it be a suction cup as I use it in more than one vehicle. Purchasedo it at loves truckstop and Iftve checked at every loves since then and have not come across the suction cup accessory. I will keep looking tho.
| | |
| --- | --- |
| | Solid Signal is an authorized retailer of DISH Network L.L.C. DISH, DISH Network and DISH Network logos are trademarks, registered trademarks and/or service marks of DISH Network L.L.C. and/or its affiliate(s). The DISH Network trademarks, registered trademarks and/or service marks are used under license of DISH Network L.L.C. and/or its affiliate(s). |